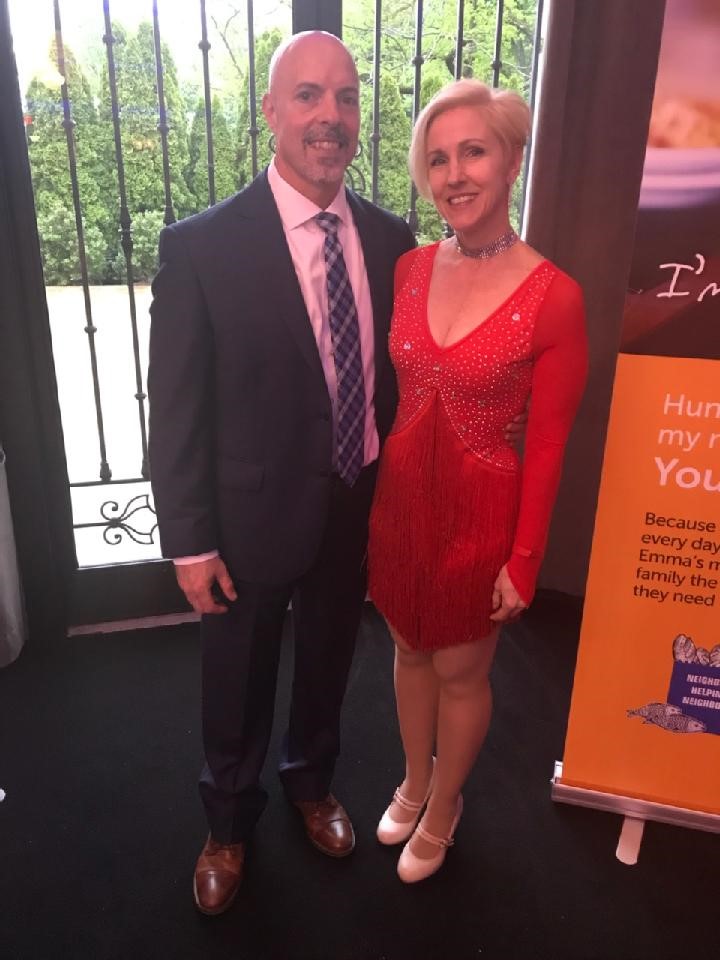 Lisa Denig & Jim Carpiniello at Dancing with Our Stars event
Hello Hillside Volunteers!
I am Lisa Denig and, along with my husband, Jim Carpiniello, we volunteer as a food delivery team every month for Hillside Food Outreach.  I first connected with Hillside when I was looking for a community service opportunity for another organization that I work with, the Westchester Women's Bar Association (WWBA).  I organized a group of women from the WWBA to stock shelves at the former Hillside warehouse in Armonk.  During that event, Kathy told her story about how she started Hillside and also detailed the many ways people could help.  I was so inspired that I signed up to be a Hunger Hero (a monthly monetary donation) and Jim and I signed up to do monthly deliveries!  We pack bags once a month for our four families and make the rounds on a Saturday morning, ensuring that each of them gets a hearty amount of food.  We have gotten to know their likes and dislikes, listened to their stories about family and health issues, and truly feel blessed to be able to help each of them in our own small way.
Our volunteering truly went into overdrive during the early months of the pandemic.  As so many of you know, the demand for home delivered groceries skyrocketed during the first wave of COVID-19 as people were forced to quarantine and needed assistance getting food and medication.  Jim and I were working from home at that point and, partly because we live so close to the warehouse, we were able to make emergency deliveries whenever Anna received such a call.  We also took on extra families during our regular, monthly rounds and tried to provide assistance to Anna at the warehouse whenever she needed it.  Becoming fully invested in helping the neediest in our community during those days gave Jim and I a sense of purpose that helped to pull us through those dark times, as well.  Focusing on others, seeing their struggles and challenges firsthand, made us so very grateful to be both healthy and fortunate.
We are committed to Hillside's mission and we try to accomplish that any way we can.  Over the past several years, I've arranged more shelf stocking events for the women at the WWBA and Jim will sometimes stand in for Anna to oversee the Saturday morning packing when she needs to take a well-deserved day off.  And, just this past May, I performed in Hillside's Dancing with our Stars competition to raise funds for the organization.  Let me say this:  I am involved in numerous organizations so I have participated in many fundraisers but DWOS was, by far, the most fun I've ever had raising money for an organization!  The weekly dance lesson with my Arthur Murray pro, Denzel, was the best hour of my week and the dinner/performance was a blast!  My friends and family – who I rope into a lot of fundraising events – all commented that it was the most fun they have had in years.
Jim and I are grateful for the critical work that Hillside does in our community.  But we are even more grateful for the opportunity that Hillside gives us to affect our neighbors in a positive way.  I can't imagine how lacking our lives would be if we hadn't connected with Hillside all those years ago!