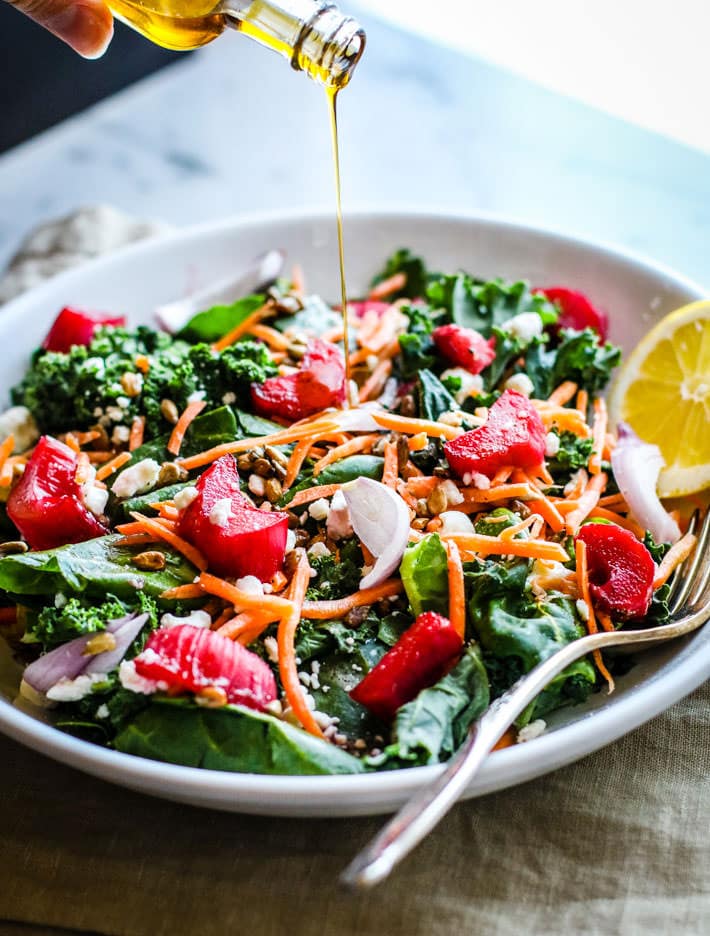 What is it?
Rhubarb features thick, red-pink stalks with bright green leaves. It is important to note that only the stalks are edible – the leaves contain a toxin that is poisonous to eat and should be cut off and discarded prior to eating. The stalks have a tart, bitter taste with a texture that is similar to celery stalks. Rhubarb is botanically a vegetable but it is typically used as a fruit in recipes.
What are the health benefits?
Rhubarb contains a lot of antioxidants that help the body fight cancer-causing free radicals and inflammation. It is also high in fiber, which helps aid in digestion and lower cholesterol levels. Rhubarb is also particularly rich in vitamin K, which is important for maintaining strong, healthy bones and preventing osteoporosis.
Suggested Recipe: Honey Roasted Rhubarb Salad
Because of rhubarb's tart taste, it's typically used in recipes with a lot of sugar, such as rhubarb pie. However, all of the refined sugar and flour in these traditional dishes offset all the health benefits rhubarb has to offer! Here's a customizable salad recipe that is big on flavor and provides a much healthier (and easier!) way to incorporate rhubarb into your diet.
Note: this recipe is for a single serving size.
Ingredients:
2 cups mixed greens
½ cup rhubarb
½ tbsp honey
Pinch of sea salt or kosher salt
Toasted walnuts or almonds (as desired)
Crumbled goat cheese (as desired)
Honey dijon or balsamic vinaigrette salad dressing (as desired)
Optional add-ins: add fresh strawberries, raspberries, granny smith apple slices, shaved carrots, grape or diced tomatoes, avocado, and/or cucumbers
Steps:
Preheat the oven to 450 degrees Fahrenheit.
Chop rhubarb into ½ inch pieces and transfer to a small bowl. Add in honey and salt and then toss until all of the pieces are evenly coated.
Place the rhubarb on a foil lined baking sheet and bake in the oven for 8 minutes until rhubarb is softened.
While the rhubarb is cooking, toast the nuts. Place the nuts in a dry skillet over medium heat (no oil necessary!). Heat and stir often for about 4 to 5 minutes, until the nuts are fragrant and a slightly darker brown. Remove from the skillet and set aside to cool.
Once the rhubarb is roasted, remove it from the oven and set it aside to let cool.
In a large salad bowl, combine the mixed greens, toasted nuts, and goat cheese. Top with roasted rhubarb and any other desired fruit or vegetables.
Drizzle with desired dressing and eat immediately.