What are its health benefits?
One serving of raw almonds contains approximately 6 grams of protein and 3 grams of fiber. They are high in antioxidants that help protect against oxidative stress, which can damage the cells in your body and contribute to inflammation and major diseases like heart disease and cancer. It's particularly high in vitamin E, which helps repair damaged cells and the immune system fight infections.
Suggested Uses
Eat as a standalone snack, as a topping on salad, yogurt, and oatmeal, or use to create a homemade trail mix.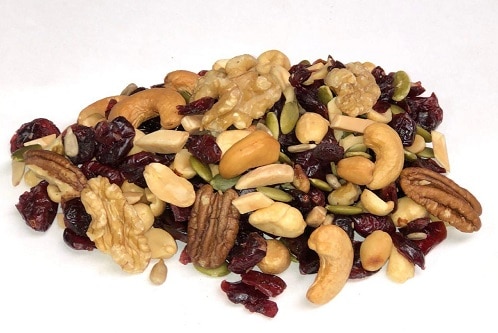 Healthy Homemade Trail Mix
Homemade trail mix is a convenient and healthy snack for having when on the go and it is extremely easy to make!
Ingredients:
½ cup dry roasted unsalted peanuts
½ cup raw or dry roasted unsalted almonds
½ cup raw unsalted cashews
1 cup sunflower seeds or pumpkin seeds (or ½ cup of each)
1 cup no sugar added dried fruit (raisins, dried cranberries, dried cherries, dried apricot, or dried mango)
¼ cup chopped dark chocolate (70% cacao or more)
Instructions:
Add ingredients to a large bowl and stir to combine. Store in an airtight container.