What are the health benefits?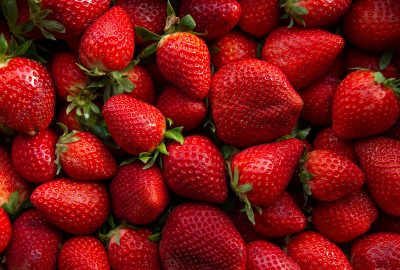 Strawberries are packed with immunity-boosting nutrients like vitamin C, manganese, and potassium. In fact, just one serving of 5 large strawberries or 8 medium-sized strawberries contains over 90% of the recommended daily value of vitamin C, which is more than an orange! Additionally, strawberries contain many antioxidants that may improve heart health, lower blood sugar levels, and help prevent cancer. Despite being sweet, strawberries have a relatively low GI and should not cause big spikes in blood sugar levels.
Suggested use:
Eat as a standalone snack, add to smoothies, use as a topping on salad, yogurt, or oatmeal.
Immunity-Boosting Mixed Berry Salad
This salad is easy to make at home for snacking or is great to take to any picnic or barbecue!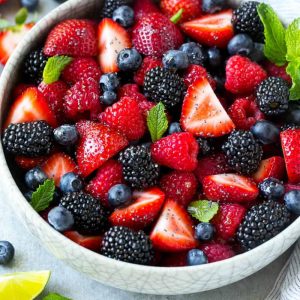 Ingredients:
1 container (8 oz.) sliced strawberries
1 container (1 pint/2 cups) blueberries
1 container (6 oz.) raspberries
1 container (6 oz.) blackberries
¼ cup fresh chopped mint leaves
Instructions:
Wash fruit and then remove the tops of the strawberries and slice each in half. Add to your serving bowl with the chopped mint, toss to mix evenly, and serve immediately.
Note: For a brighter flavor, toss the salad with 2 tablespoons of fresh-squeezed lemon juice and 1 tablespoon of honey.