What are the benefits?
Raw spinach is high in soluble fiber, which helps aid in good digestion and can help reduce cholesterol levels. It is high in vitamins and minerals, including vitamin A, B6, C, and E, which all help regulate immune function and fight off infections. Spinach is also an excellent source of vitamin K, folic acid, iron, and magnesium.
Simple Summer Salad
This salad features the perfect mix of sweet and savory flavors and is packed with nutrients!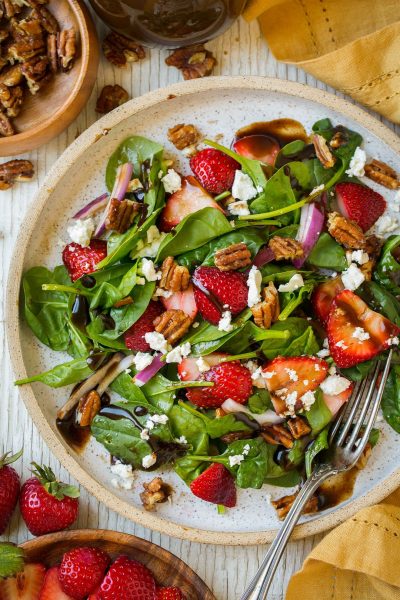 Ingredients:
5 oz. spinach
2 cups halved fresh strawberries
½ cup chopped walnuts or sliced almonds
½ cup red onion, thinly sliced
½ cup crumbled feta, goat, or blue cheese
½ cup balsamic vinaigrette
Optional: 1 fresh avocado (sliced or diced)
Instructions:
Add spinach, strawberries, red onion, walnuts, and half of the cheese to a large bowl. Drizzle with the vinaigrette, and toss to combine. Add the avocado and the rest of the cheese. Serve immediately.
Notes: This recipe makes approximately 4 servings. If you do not have strawberries on-hand, apples (we like granny smith the best!) work just as well in this recipe.